The Struggle of Liminal
Scratching the surface of transitions
Last week, I asked you all how you felt during a specific transition familiar to many: graduating from college.
Here's what y'all were thinking during this liminal moment: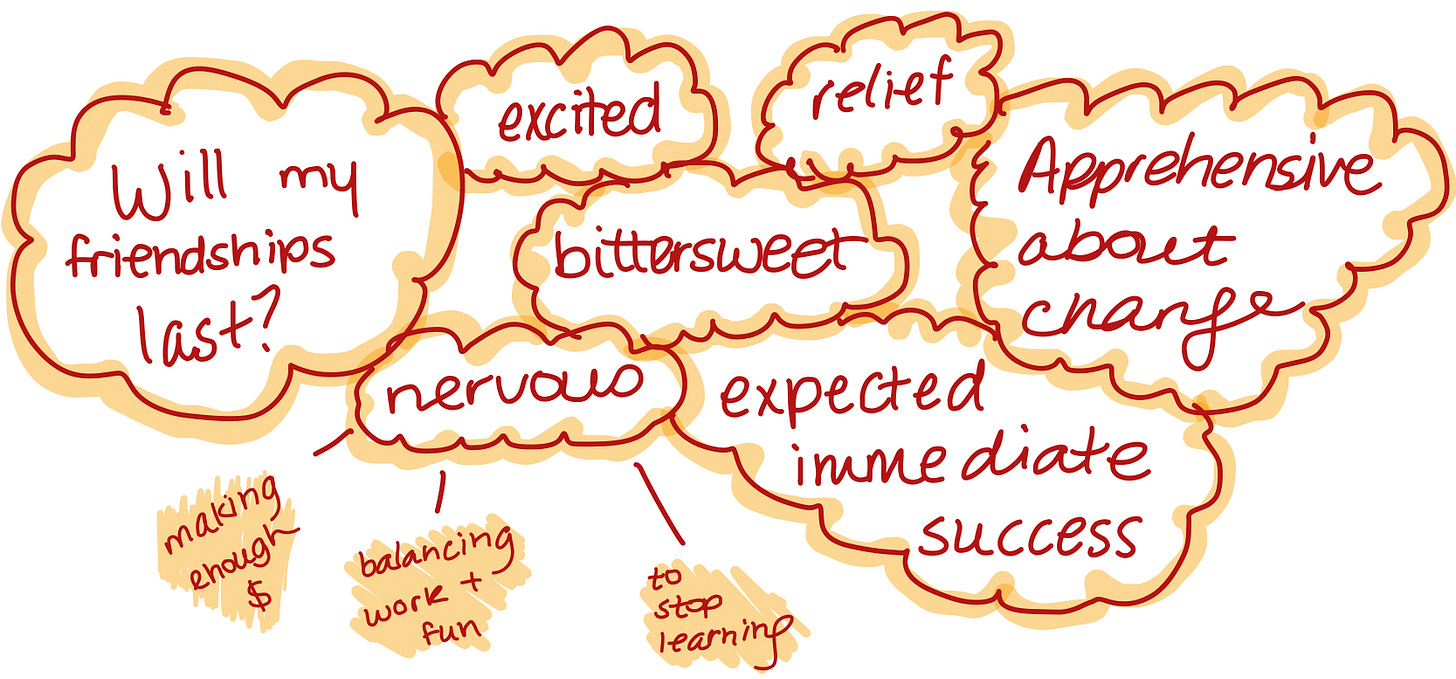 The underlying theme? I was nervous, because I didn't know what to expect, and I later found out that I had no reason to be. 
Based on the conversations I've had with you over this past week, I learned that no matter what we were thinking and feeling during the transitional period (regardless of a positive or negative outlook), none of the things that we thought would matter...did. 
//
If our nearly unanimous experience is that we come out unscathed at the end of a transition, why are we usually anxious as the beginning of it? Today I will discuss:
The "why" behind our current approach to transitions

The "how" for a better approach to them
//
THE WHY
We hate losing control + we hate randomness.
Liminal moments (AKA transitions) are those points in time where we depart from the control that lies in what we know towards that which we haven't discovered yet.  As we are remarkably vulnerable in this space, it's uncomfortable. 
Originally, my hypothesis was that transitions are hard for one major reason: we have a desire for control.
In The Untethered Soul, Michael A. Singer personifies this need for control as the voice in our head. We all know this voice that Singer refers to. It's the one that keeps us up at night replaying old conversations, formulating responses to ones that haven't happened yet, reminding ourselves to get sponges from the grocery store tomorrow, so on and so forth. 
What's interesting is that the vast majority of our thoughts don't control anything in the world. They're simply buffering narratives. Singer states that "reality is just too real for most of us, so we temper it with the mind." Meaning, we use our inner voice to make sense of the outside world in an effort to understand it. Internalizing these external factors gives us a false sense of control over what's happening around us.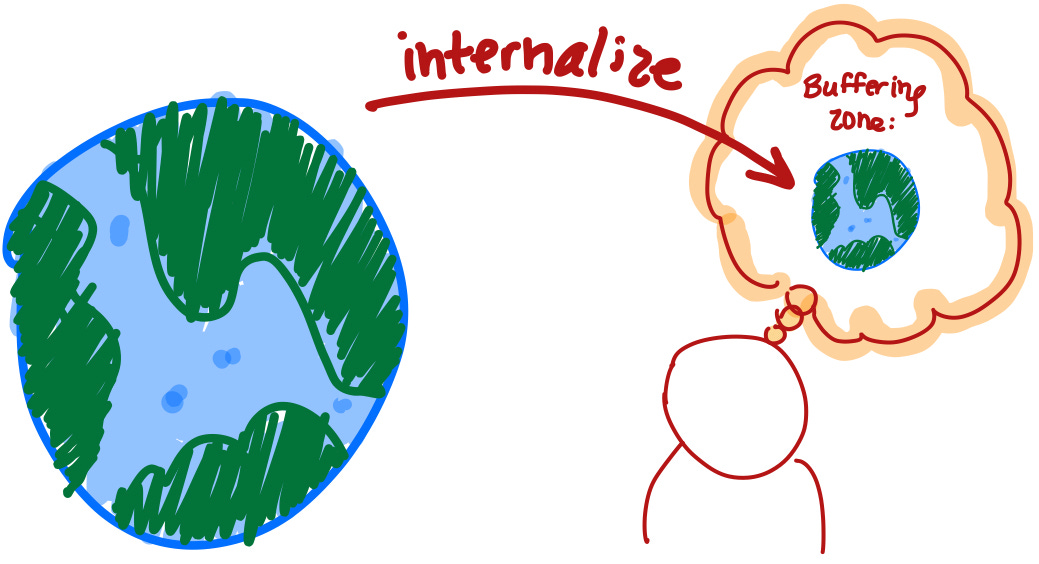 While this argument for humans needing control is definitely at play when it comes to uncovering the "why" behind the difficulty associated with transitions, there is something more. Something that is more deeply unsettling to the human psyche, and the true "why" behind difficult transitions. Randomness.
Transitions threaten the underlying belief that the world operates on a cause + effect principle. In reality, life is simply a series of random events. Sociologist Duncan Watts explains this concept in a recent episode of the NPR podcast, Hidden Brain.
"Everybody's saying, 'well, of course, we had a pandemic. People were warning about it. If only we paid attention to them, we would have stopped this.' So we have this view, whether we explicitly say it or not, that there is this thread that goes from the past into the future. We think that there is this one trajectory that the world is going to take. And if only we were smart enough, we could somehow know what thread that is. And that is wrong. And there is no thread. There is just sort of an infinite cloud of possibilities. The future has not been created yet."
This shaking reality that life does not, in fact, operate on a single thread connecting past, present, and future is most noticeable during transitions. This is because, outside of these liminal spaces, we think we can predict life's events. 
Spoiler alert: we can't. 
Transitions make us keenly aware of this, because the models we typically use that allow us predict an outcome have no historical data to go off of. We feel uncomfortable as we experience a loss of control and realize that these predictive models are no good anyways. Our actions and thoughts have very little influence over what could happen during the transition, or at any other point in life.
Why does life's randomness put us on edge? We don't like randomness because we equate it to a lack of meaning.
However, Watts points out that this is a false association, as humans create meaning (not events). He explains, when he's discussing the concept of randomness with others, people will respond "with this tired expression on their face and say, 'then nothing means anything, right?'
[Watts] finds that to be a strange response, because meaning is something that we create. The world doesn't create meaning. The world just does whatever the world does. Right? We're the ones who decide what it means." 
For example, being placed on a flight is a random event. If you hit it off with the person you're seated next to and end up marrying this person one day, that is a meaningful event in your life. However, it's is a random event nonetheless.
//
THE HOW
Maintain a beginner mindset
If we can know and accept this randomness, we can move on to consider how to better approach liminal spaces.
"How", you ask?
Epistemic humility, i.e recognizing your lack of knowledge and being humble with your assumptions. Basically, realizing that former experiences don't inform future experiences, as all events are ultimately random. 
Here's an example of how I practiced using this new vocab word earlier this week: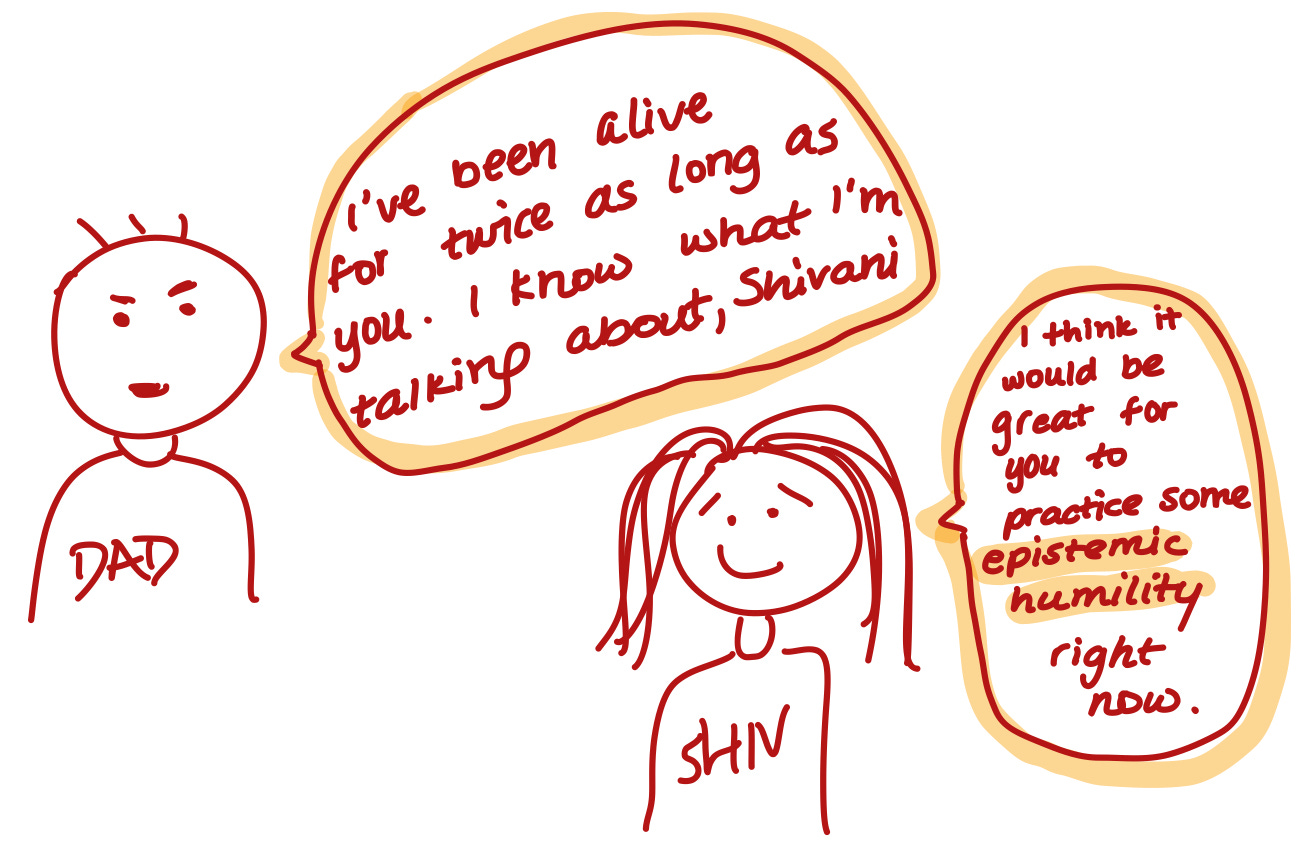 That conversation went really well for me……
Jokes aside, epistemic humility is an incredibly valuable tool, especially in the context of transitions. It allows us (1) to be more accepting of any outcome, and (2) cultivates the space for us to create meaning of said outcomes.
One of my favorite country artists simplifies this concept in two words — beginner mindset. Keith Urban was recently interviewed on an episode of the Armchair Expert. He is a four time Grammy award-winning singer, song writer, and record producer.
When he's asked what keeps his hunger for making music alive, he responds with this idea of being a beginner forever. Entering the recording studio each time as if it were his first. When Keith Urban assumes he knows nothing, the possibilities of what he might create are endless. 
//
So my friends, if we all:
Accepted that life is a series of random events that we have no control over,

Understood that we are responsible for creating meaning of these events, and

Shifted our mindsets, assuming that we knew nothing
...what might we create?
Shiv